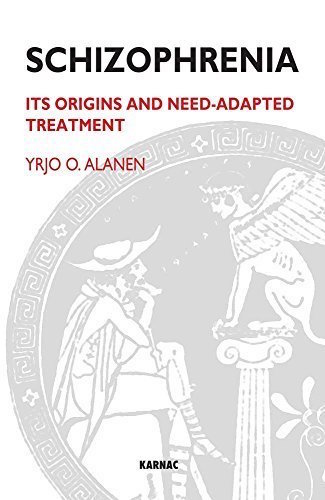 Schizophrenia: Its Origins and Need-Adapted Treatment – Yrjo O. Alanen (Paperback)
In stock
Product Description
This book includes memorable case vignettes along with research findings and is recommended for clinicians, students, teachers of mental health and those in public policy involved in creating effective treatment methods. 'Given increasing and often counterproductive pressure for a 'quick fix' of psychiatric conditions, Yrjo Alanen's Schizophrenia: it's Origins and Need-Adapted Treatment is a timely and important contribution. In contrast to the worldwide trend for simple solutions to complex psychological disorders, the author opposes reductionist and dehumanizing approaches to patients. Alanen masterfully integrates knowledge on schizophrenia whether it derives from psychodynamic or biological studies. He then proceeds to illustrate how this integrated knowledge is the foundation of a 'need-adapted' method designed to treat psychotic individuals. The beauty of this method, which is predominantly psychotherapeutic and includes family meetings, is that it can be utilized within public health care systems. Alanen's clarity of thought in explaining his approach to his patients is matched with his empathic understanding of his patients' inner worlds and their familial and societal problems. This book includes memorable case vignettes along with research findings. I recommend this book not only for clinicians, students and teachers of mental health but also for those in public policy who are charged to design effective treatment methods'. — Vamik D. Volkan, M.D Contents  Foreword by Stephen Fleck
Introduction by Murray Jackson Chapter One: Three patients
– Sarah, my first patient
– Eric, significance of individual psychotherapy
– Paula and family therapy Chapter Two: General notes on schizophrenia
– Symptoms
– Subgroups
– On DSM diagnostics
– Schizophrenia from a public health perspective
– Prognosis
– Illness Models Chapter Three: The origins of schizophrenia: an attempt at synthesis
– Starting-point: necessity of an integrative approach
– Studies on predisposition to schizophrenia: role of biological factors
– Studies on predisposition to schizophrenia: role of psychosocial factors
– An attempt at integration
– Prepsychotic personality development
– Factors precipitating the onset of psychosis
– The onset of psychosis
– Is schizophrenia a uniform illness? Integrating remarks Chapter Four: Contemporary ways of treating schizophrenia and psychotherapy research
– Introductory remarks
– Psychopharmacological treatment
– Individual psychotherapy
– Family therapy
– Groups and communities
– Community psychiatric developments Chapter Five: Need-adapted treatment of schizophrenic psychoses: development, principles, and results
– The Turku Schizophrenia Project
– The Finnish National Schizophrenia Project
– The Inter-Scandinavian NIPS Project
– Concept and principles of need-adapted treatment
– Conclusions Chapter Six: Therapeutic experiences
– Experiences of applying the different modes of treatment
– Need-adapted treatment: case excerpts [with Irene Aalto and Jyrki Heikkilä] Chapter Seven: Treatment of schizophrenia and society
– Political factors affecting the treatment of schizophrenia
– It is worth while to develop treatment
– Development of the treatment organization
– Is it possible to prevent schizophrenia?
– What does the future look like?